---
Welcome to Sean and Uri's wedding web-site!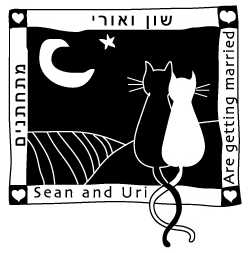 Our wedding took place on a magnificent Friday afternoon (May 4th 2001) at Kav HaMaim, Michmoret, Israel.
The official wedding photos (by Tali Katzoren)
More photos (by Michal Tulpan)
Pictures taken by Natalie Davis

Read some of the speeches:
Our Ktuba (graphic design by Johnny Rose)
Catering service - Assado Criollo
Bar service - Bula Bar
Chupa designed by Yaara Bar
Logo and invitations designed by Strudeldesign.com
Master of ceremony - Natalie Davis
DJ - Masha
Rabbi - Miri Gold
Disposable cameras and reprints - Studio Ariel

We got officially married in Toronto on Friday May 18th.
The ceremony took place at Carman's Dining Club
See pictures from our Toronto wedding
Read our Toronto wedding marriage vows.

---
To the Resnitzky Family web site